There are 5 Key Roles that have slightly different access permissions.
Traveller: All

JESI

Users have Traveller access. They can create, edit, delete or cancel their journey details. Upon arrival Travellers can also check-in themselves.
Monitor: The main function of being a 'Monitor' is the ability to create a journey for other travellers, monitor their travel status and respond to escalations. Monitors do not have permission to perform activities for teams that they are not attached to.
Manager: A Manager is having the ability to add and manage users that are associated with their team. Managers have permission to create users, add users to their teams, create and manage journeys and view Traveller Activity and System Statistic Reports for the teams that they are attached to.   If Managers are not attached to the team they will not be able to view or perform activities for other teams.  Managers can attach active users into their team.
Administrator: Control the integrity of the

JESI

software and meet organisational policies. Administrator have access to all the same permission levels of Traveller, Monitor, Manager, however they have added authority to Manage Teams and also Customised locations.
Super Administrator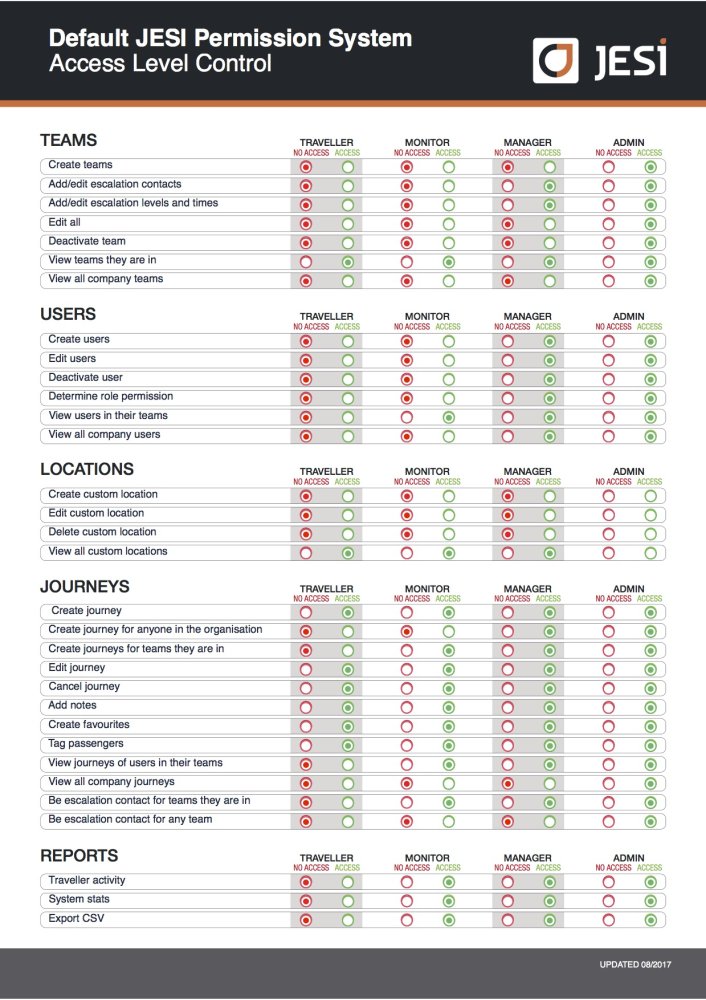 Feedback
Thanks for your feedback.