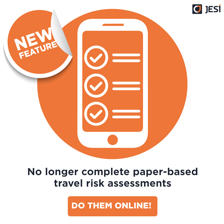 Based on client requests, the team developed 3 types of online Risk Assessments (TRA) that incorporated:
1. Basic TRA – series of basic questions that require the travel to answer and undertake a self-assessment of their current well-being and travel conditions.
2. Intermediate TRA – series of basic questions that the traveller completes and is then submitted into a workflow approval process for a supervisor to approve or deny
3. Advanced TRA – that incorporates segmented questions that the travellers is required to answer and is linked to a rating scorecard matrix that will determine if the risk rating is subject to an automated approval or enters into a review process for approval or denial.
All 3 TRA have been extremely popular, with most clients requesting customisation to meet their own organisational needs and scenarios.
Feedback
Thanks for your feedback.